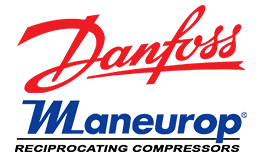 Danfoss Maneurop Hermetic Scroll Compressor (SM, SZ Series)
Rp0.00
Danfoss SM/SY Scroll Compressors for Residential, Light Commercial & Commercial Air Conditioning and Heat Pump applications with R22.
The larger S-series SM, SY are for 3-phase power supply and dedicated for both single applications and manifolding.
Danfoss Scroll Compressor Series SM: Commercial Air Conditining, Mineral lubricant
Danfoss Scroll Compressor Series SY: Large commercial Air Conditioning, POE lubricant
Maneurop SZ Series
Maneurop scroll compressors cover a full range of capacities, perfect for any application from light commercial to large commercial systems.The SZ compressor models are suitable for R134a and R407C refrigerants and combine high energy efficiency with low sound and minimal vibration.
| Type | Size (HP) | Refrigerant |
| --- | --- | --- |
| SM 090 | 7.5 | R22 |
| SM 120 | 10 | R22 |
| SM 124 | 10 | R22 |
| SM 147 | 12 | R22 |
| SM 148 | 12 | R22 |
| SM 160 | 13 | R22 |
| SM 161 | 13 | R22 |
| SM 185 | 15 | R22 |
| SZ 090 | 7.5 | R407c, R134a |
| SZ 120 | 10 | R407c, R134a |
| SZ 148 | 12 | R407c, R134a |
| SZ 185 | 15 | R407c, R134a |
Rp

0.00

Danfoss MANEUROP MT and MTZ hermetic reciprocating compressors are specially designed for use at medium and high evaporating temperatures. All…